Baudelaire in a Box Episode 7: The King of Rain



The 7th installment in our epic attempt to translate the ENTIRETY of Charles Baudelaire's Les Fleurs du mal features 15 new cantastorias designed and illustrated by Dave Buchen, with music and translations by Emmy Bean, T-Roy Martin, Chris Schoen, and Sad Brad Smith. They will be joined by Ronnie Kuller on accordion and violin, and Joseph Spilberg on bass.


The King of Rain
October 15-18, 8pm
The Charnel House
3421 W. Fullerton, Chicago IL
$15 suggested donation, more if you've got it, free if you're broke.



Dubbed "an act of extravagant artistic idiosyncrasy" by the Chicago Reader, Baudelaire in a Box is a serial cantastoria project based on the work of Charles Baudelaire. Over the course of eleven years (culminating in 2021, the bicentennial of Baudelaire's birth), the project will adapt each poem from Fleurs du mal as a unique cantastoria, pairing each musical adapation with "crankies" designed and illustrated by Dave Buchen. Baudelaire in a Box has been performed in Illinois, New York, Connecticut, North Carolina, Puerto Rico, and Wisconsin, by a growing group of musical collaborators.

It is a project so ambitious, so immense, that it cannot be contained on a single web page. And so: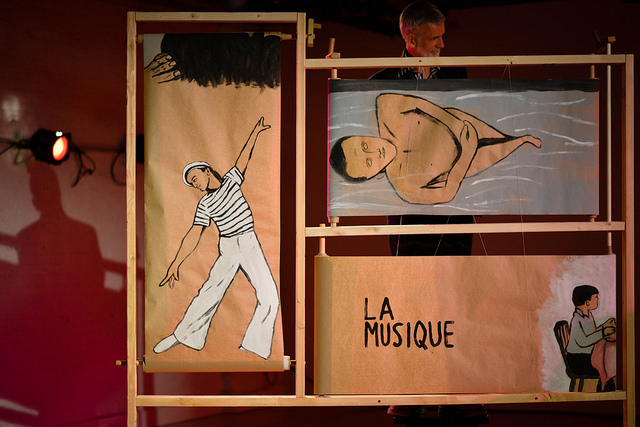 Photo from Episode 6 by Kristin Basta.